wailing at the fourth wall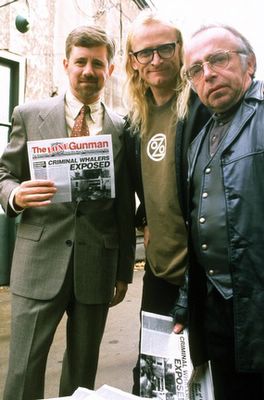 ...a nation turns it's lonely eyes to you..
I've never been hep to the idea that TV openly or directly influences people: rather, what it does most effectively is call out to the audience, or parts of it - calls out to notions about itself, lights them and puts makeup on them, and marches them through 48 minutes of excitement.
Case in point - The Gunmen. Google 'The Lone Gunmen,' and it's a sure bet if you scroll down on the first page that opens, you'll come across a link demanding Chris Carter or Fox "Resurrect the Gunmen," or "Bring Back Frohike, Byers, and Langly!"
Originally occupants of the late-20th century Americana where the best 'X-Files' were set, the Gunmen soon became a sly acknowledgement on the part of Carter and executive producer/writers Glen Morgan and James Wong of the core fanbase of the show - idealists and romantics who were way too smart and self-involved to be anything but awkward and weird around other people. Much like Robin's appeal as Batman's sidekick, Gunmen wannabes - myself included - knew they couldn't be Fox Mulder, but they could hang out with him. And so and thus, they get a shot at a series (which Fox, increasingly unhappy with Chris Carter and setting increasingly high bars for their shows' success, cancelled after one season, even though observers say it was better rated than the X-Files' first season); and so and thus, the echoes of the outcry at that horrible horrible episode they were killed off in in that horrible horrible final season of their parent series.
So, if it's safe to say - or at least safe for me to say - that teevee meets you halfway, is there anyone with any idea about the socio-chemical reaction going on
here
?
Despite the unabated threat of terrorism and the arrival of another hurricane season, the nation's top Homeland Security official had time yesterday to publicly ponder this question:

Is the Fox series "24" like real counterterrorism efforts, or is it, you know, just a make-believe suspense show with actors and product-placement props and characters running around breathlessly yelling at each other, "Dammit, there's no time!"

Michael Chertoff, secretary of the Department of Homeland Security, said the agents on "24's" Counter-Terrorism Unit, like the 180,000 people under his supervision, have to make difficult choices while faced with "imperfect information" and a series of "unpalatable alternatives."
[snip]
Chertoff was the featured speaker at a morning forum sponsored by the Heritage Foundation, a think tank that normally sticks to real, if less sexy, topics such as tax policy and entitlement programs. Heritage's Phillip Truluck conceded in introductory remarks that the event at the Ronald Reagan Building was "very unusual" for the conservative organization.

He was probably right, considering that the panel discussion after Chertoff's remarks included two national security scholars, "24" co-creators Joel Surnow and Robert Cochran, and the actors who play the show's Nixonish president (Gregory Itzin) and CTU agents Tony Almeida (Carlos Bernard) and Chloe O'Brian (Mary Lynn Rajskub).

The discussion was hosted by Rush Limbaugh, who breached the art-vs.-life divide early by planting a big kiss on the woman he introduced to a knowing audience simply as "Chloe."
[snip]
The title of the session was " '24' and America's Image in Fighting Terrorism: Fact, Fiction or Does it Matter?" Everyone seemed to agree that it mattered, somehow, which is probably the answer Fox's promotions department was hoping to hear. No less than Chertoff himself praised the character and tenacity of "24's" fictitious uber-agent, Jack Bauer (played by Kiefer Sutherland), and his CTU colleagues, saying such perseverance will help America defeat terrorism.
On a related note, word comes that the Daily Show is killing the souls of college students everywhere. Killing them dead. That's the same Daily Show, which has a decidedly anti-torture bent, and featuring absolutely no one who Rush Limbaugh wants to kiss, that's
poisoning the body politic, trafficking in cynicism, and general dumbness...