"gee, kent, and we were going to make you king of the winter carnival."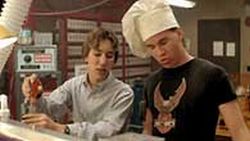 Above: In the process of solving the debate. Whatever that means, solving a debate. I dunno. You figure it out.
He may contradict himself completely in the space of like three words, but dammit, it's that kinda out-of-the-box brain-working that shows you he
really is gonna nail this global warming thing
:
I think we have a problem on global warming. I think there is a debate about whether it's caused by mankind or whether it's caused naturally, but it's a worthy debate. It's a debate, actually, that I'm in the process of solving by advancing new technologies, burning coal cleanly in electric plants, or promoting hydrogen-powered automobiles, or advancing ethanol as an alternative to gasoline.