Via SN!:
Michelle the Malkin:
I'm not a baseball fan, but several readers wrote in about the Yankees-Rangers game last night...
[snip]
I understand the Rangers wanted to do something innocuous to recognize a holiday celebrating historical and cultural pride. But the politically correct selectivity here is telling. While it's considered a celebration of "diversity" to acknowledge the military sacrifices of another nation's heroes, it's considered racist to acknowledge the military sacrifices of one's own.
Via
Martin Scorsese
:
Bill the Butcher:
Enough of this heathen music! Get rid of these goddamn monkeys! Strike up, boys! This is a night for Americans!

Hats off! We hold in our hearts the memory of our fallen brothers...whose blood stains the very streets...we walk today.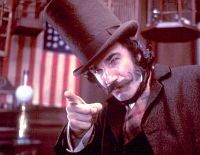 Da baseball exhibition's ain't fer da Irish...er, Meck-suhcans!